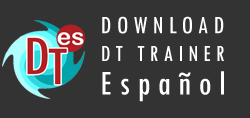 The DT Trainer is now available in Spanish. The current version has 120+ content programs from colors, numbers, body parts, and expressions to math, time, and word programs that are for a developmental range of 2 to 9 years old. With this first release, what the student sees is in Spanish, but the administration is in English. Both the content programs and reinforcers are in Spanish. We will continue to expand the content and reinforcers and also at some point in the future have the administration and training videos in Spanish. The current version has limited usefulness in Spanish speaking countries except where the program administrators also speak or at least read English. However, there are situations where the current configuration can make a difference.
This early version is for situations where the students need to learn in Spanish but the educators or parents are bilingual (English & Spanish). Some applications are…
Children and students with learning disabilities in Spanish speaking areas or Countries
English language learners in the US that need to continue their learning in Spanish while they are learning sufficient English to then be successful in English speaking schools
English speaking students learning Spanish
The DT Trainer is like a virtual teaching assistant that provides intensive instruction on basic concepts for students with severe learning disabilities to young typically developing students. The applied behavioral analysis (ABA) / discrete trial (DT) techniques are about adaptation to the individual and are critical for lower functioning students but also work for higher functioning students. The product is priced as a very cost effective solution for a wide range of students. Our pricing is less than 1/10th the cost of what typical commercial companies would charge for a similar amount of educational content and robustness.
For further information in English or Spanish email: sales@dttrainer.com or call 803-403-1336 and ask for Elsa Garay – Spanish Products Manager.