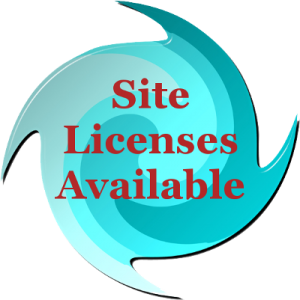 AES is offering DT Trainer and Activity Trainer district wide special education site licenses. This gives you the most flexibility of use while minimizing costs. We count your previous license purchases toward your site license purchase so that it reduces the cost of upgrading. If you are not ready for the site license, you can still expand the classes where you are using the products and upgrade to the site license later.
Strained budgets are increasing student to teacher ratios, decreasing staff training, and causing other reduction in classroom resources. Both of our educational technologies very economically help maintain or increase services especially during this tough time.
Our products are now in over 1000 US school districts and some of our customers use the products on up to a 33% impact in special education. We recently introduced our district wide site license for special education and we have a number of districts upgrading to this model. If you are interested in a site license quote, please email your contact information, the district's name, and the total and special education student counts to sales@dttrainer.com. We will automatically generate a quote showing you what the site license cost for just the DT Trainer or the DT Trainer and Activity Trainer (our Power Pack). If you are not ready for the site license, we can also quote you for some number of additional single computer licenses.
If you have not tried our products yet, we have free 30 day trial downloads from our web site as well as free overview webinars.
Below are short descriptions of each product.
DT Trainer
The DT Trainer is like having an extra teaching assistant, but ABA trained, in the classroom for a very small fraction the cost of a teaching assistant. This means that you can have the DT Trainer in many classrooms for the cost or even a fraction the cost of a single instructional assistant. The DT Trainer teaches receptive language and concepts in the 2 to 9 year old developmental range. The software has over 200 content programs ranging from matching and identification of objects, colors, and numbers to time, money, math, and word analysis. Since the product does not baby the student, even middle and high school students that are significantly delayed generally respond to the software.
The teacher simply selects content programs and reinforcers and a few other parameters, and the software will automatically orchestrate sessions and collect the data day after day without the teacher having to micromanage. Even very low functioning students, which only learn with one-on-one instruction, can usually use the program independently with a touch screen, single or double switch, or a mouse. A range of behaviorally based teaching methods are designed into the software to accommodate a wide range of students and learning issues. The program also provides a model for teachers and teaching assistants of behaviorally based teaching.
Activity Trainer
The Activity Trainer helps teachers teach skills much more efficiently than normal teaching to lower functioning students that are not learning skills quickly. The Activity Trainer provides an easy way for the teaching assistant, teacher, therapist, or parent to control the video while focusing on facilitating the student's success in a range of skills. Students can learn sometimes up to 100 times faster than regular face-to-face teaching. Also, where students have previously failed to learn a skill, the teacher will want to try the activity trainer to teach the skill. Many skills like shoe tying can be taught where the students have failed before. The Activity Trainer puts at an educator's fingertips a structured learning environment that can promote good teaching methods and eliminates the time consuming process of task analysis and creating their own video models.
The Activity Trainer makes a well-researched method, video modeling, practical in the classroom and home. Video modeling research goes back 20 years but is still not common practice in our classrooms. With our research partner Dr. Robert Stromer, we determined that the main problem preventing video modeling from becoming common practice is that the current media players were not designed for video modeling so for that and other reasons VM was not practical. With guidance from video modeling experts, we designed a tool to overcome that problem and include support for task analysis, sequences, data collection, and organization by student. Along with actually designing an environment for video modeling, we are creating a large "Skills Library" including Academics, Daily Living, Recreation, Social, and Vocational. The over 300 included activities (thus far) can be used as is or adapted to the student. There is also a "User Library" for customers to create their own activities. There are many features in this product including a visual schedule and support to print out the images to do off system schedules and cueing.
The AES Team
www.dttrainer.com
sales@dttrainer.com