Announcements… Upcoming Events and Releases!
Reminders…
CURRENT VERSION 2.6.0.0: Make sure you have the latest and greatest features to enhance student learning!
If you still have old versions of the DT Trainer or Activity Trainer, they will not run on Windows 7 or 8 . To refresh licenses or to use the programs in additional self-contained classrooms, email sales@dttrainer.com for a quote.
Please contact us if you need any help or guidance in getting the most out of your DT Trainer and Activity Trainer licenses.
IMMINENTLY AVAILABLE… New DT Trainer Self-Paced Training Videos! Designed to be BETTER than live webinars!
COMING SOON… New Report -> Student Configuration & Status!
COME SEE US at Closing The Gap… Booth # 313!
We will be exhibiting at the 33rd Annual Conference October 14th-16th in Minneapolis, MN.
See below ad for more information on conference.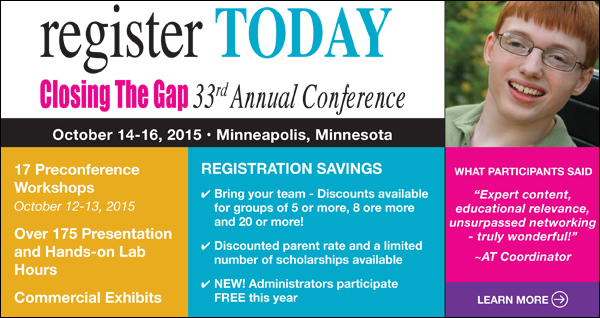 To contact us: Phone: 803-403-1336 FAX: 803-403-1337
Accelerations Educational Software
www.DTTrainer.com
Sales@DTTrainer.com
Support@DTTrainer.com