DT Trainer / Activity Trainer EOY Special and Report Emailer
Upgrading our Phone System and Changing Providers
We are transitioning our phone and fax systems! To phone or fax, please use the following numbers for now: Phone: 803-403-1336 FAX: 803-403-1337
End of School Year Specials through June 30th! Contact us for details!
Phone: 803-403-1336
Email: Sales@dttrainer.com
Report Emailer
Our newest release (DT Trainer 2.6.0.0) includes the Report Emailer. From most reports, use the default report or configure a report, and then click the Email button. You will see the Report Emailer dialog.
If you have already configured the Recipient List and the Mail Settings, simply click the Send button and voilà you are done!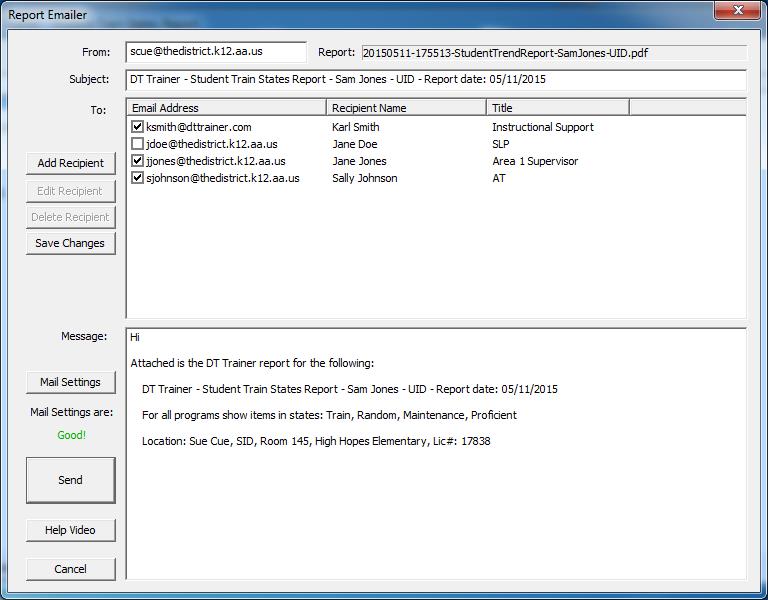 Soon you will start seeing the "Help Video" buttons (like shown above) on dialogs to help you more quickly learn existing and new features of the DT Trainer.
There are hover help and popup messages to guide you through setup and use of the Report Emailer.
The sender is by default the first recipient so the sender will get a copy of the email sent to others.
To add a recipient, click the "Add Recipient" button and enter the name, title, and email address.
To delete a recipient, click the "Delete Recipient" button.
You can select or not select recipients to send to using the check boxes.
If you are not going to send now, click "Save Changes" to save any changes to the recipient list.
Before sending, you will need to configure the Report Emailer by clicking the "Mail Settings" button. There is even a "Web Help" button to help you get setup.
Click "Cancel" if you do not want to send at the time.
Webinars – Call or email us to schedule Training or Consultations
Schedule a training webinar for your staff, team, or parent group by contacting us (support@dttrainer.com or 803.403.1336).
Accelerations Educational Software