---
*These prices are for US residents only. For information on international orders please visit our international customers page.
The DT Trainer is a large package with hundreds of content programs and reinforcers. Our pricing goal is to be affordable, but charging a sufficient price to provide the revenue to continue to expand the product. Each license includes support & upgrades for a year.
Home Purchasing Options
DT Trainer – One Year Subscription ($150)
(
Purchase Online
)
The One Year Subscription includes the full Discrete Trial Trainer software, useable for one year, and support by phone and email.
Power Packs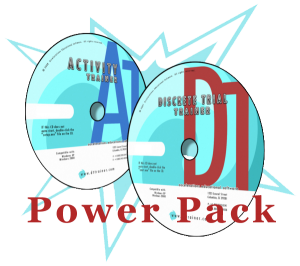 By purchasing the power pack you will receive a 20% discount on both the DT Trainer and Activity Trainer. Your student or child will be able to benefit greatly by utilizing both of these products.
Home users can easily purchase through our online store.
Ordering Information
Purchase Online
The easiest and fastest way to buy our products is through our online store. We use paypal to provide you with the most secure payment options. You do not have to have a paypal account to order, we accept any major credit card. (Online ordering is for United States residents only).
By Phone
We accept credit card orders over the phone: 803-403-1336
Purchase Order:
Fax the PO to: 803-403-1337

Company Information:
Accelerations Educational Software
PO Box 2042
West Columbia, SC 29171-2042
Phone: 803-403-1336
EIN #: 57-1089661
---
Prices subject to change without notice.
* M&U is an extraordinarily valuable item. This not only includes the new features, functionality, and bug fixes for the software, but also includes additional content programs and reinforcers. The DT Trainer is a large package, and the M&U allows you to stay current with the growth of the package.
** Administrator Standard Support is provided by email and phone and covers the use of the DT Trainer with students. For home customers, Administrator support is provided through a parent or designated representative.
*** Tech Support is provided by email and phone to the parent or designated representative for home customers.